Phil Reynolds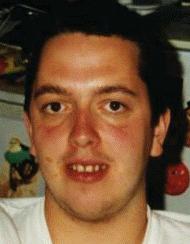 Photo by John Dawson. You may notice that I'd caught the sun a bit the day before. Click the picture for an uncropped version.
Welcome to the web site of Phil Reynolds, formerly Yorkie, now EmleyMoor on some IRC networks.
I have two warnings active for people to read, one to users of , which is now also where I am hosting my crusade against the scammers, the other to users.
I intend this site to be the best source of information you could ever want about me... after all, I wrote it, so it must be right!
And now, some information on my activities and interests:
I am also a keen supporter of the ancient counties of Britain, hoping to see them adopted formally as the geographical framework of the country.
If you would like to see Andy Brown's photo of me on Hampstead Heath, in use as the main photo from May 1995 until November 1997, click here.
In April 2012, after many years of being a Demon Internet customer, I changed ISP, to Andrews & Arnold.
I used to keep a page with my gripes about Microsoft. It has now developed into a hitlist or rant page.
And now a personal rant about badly presented phone numbers.
My opinion piece on IPv6.
My opinion piece on self service in retail and dining environments.